Last year everyone was worried about keeping their jobs. Employees were saving every penny because they didn't know what was going to happen. I saw this as an opportunity. I knew management wouldn't be giving out bonuses or holiday gifts. What a perfect time to give a gift to my boss, and his boss. The challenge was finding a gift that was not too showy, but would be remembered.  Not too expensive, but display quality. After a lot of thoughtful research, I found a great gift.
A pen.
No, really, a very cool pen. For starters it's historical. Pens were given by Presidents George Washington and Harry Truman  and also used in Space.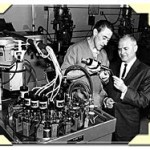 In fact, there's a great urban legend about the first pen used in space: when the race to space was very intense the US and Soviets knew there would be problems writing in zero gravity. The US spent millions developing a gravity-defying ballpoint pen… and the Russians… used a pencil.
While the story is not accurate, it does make for a great conversation piece. Fisher was the first to make a pen that writes upside down, under water, and theirs was the first pen used in space.
My experience was that giving a space pen was perfect for the office; it was priced right, had a great story, and was memorable.